I am an experienced IT trainer with special experience in teaching maps web based mapping, earth science teaching and educational technology.  Clients include HEA GEES (Geography, Environmental and Earth Science) and Google Outreach.
NHS Training (May 2017)
I have been working with a team who are considering a move from all face to face to blended learning.  This is part of the Open University commercial work I undertake.  So far I have:
offerred consultancy advice to the team
completed a day's training for the team
More detail will be added later on this project.
Educational Technology Training
A recent session (23rd June 2016) at University of Hertfordshire for the mental health team saw me delivering training on:
Office Mix in teaching
Social Media
MOOCs
on a day from 10.30 to 15.30.  As examples of my work you can download:
The training took place in the exemplar classroom so I was also able to model inking on PowerPoint slides on the state of the art whiteboard.  The average Likert rating of how useful the sessions were on a scale of 1 to 10 was 9 (n=6).  Some free question feedback comments were:
"Very useful modelling of Office Mix and practical exercises too"

"Good pacing throughout with excellent step by step guidance"
Web GIS Training
I have worked with Google Outreach and Google on a number of occasions doing CPD (or PD) for school educators.  The most recent was at the Californian Geo Teachers Institute 2016
where I presented on principles of map design and  Google Earth Tour tips.  The training was successful with a Likert question about my session: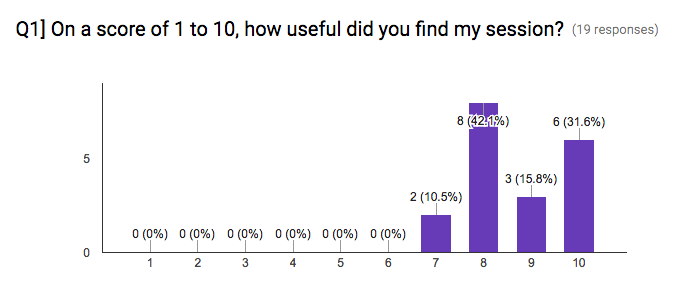 and free comments from tutors:
"[I liked how you] worked through things step-by-step, showing how something will be useful or wanted before showing how to do it, [I also liked your] general discussion about using these ideas/tools in the classroom"